R & A Rules shall govern all play except as Modified by Local Rules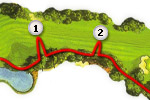 Golf Cart 90 Degree Rule
Carts may travel on to fairways only at 90 degree from cart path.
Immovable obstructions & Ground Under Repair – Play prohibited (Rule 24 – 2 & Rule 25)
Cart paths, staked trees, flower beds and yardage marker bushes. If they interfere with the lie, stance or area of intended swing, the player shall lift the ball and drop it without penalty within one club – length of and not nearer the hole than the nearest point relief.
Water Hazards (Rule 26)
All water hazards are lateral water hazards and are defined by the outer edge of the concrete borders.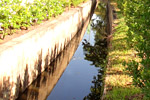 Out of Bounds (Rule 27)
Inner edge of all drainage gutters on the perimeter of the course or all areas beyond white stakes.